What's The Difference Between FFP2 Face Respirators And Surgical Masks?
November 29,2021
Since the explosion of the Corona pandemic, masks must be worn in public spaces and stores in many countries around the world. There are so many kinds of masks sold on the market such as industrial face masks, full face masks, surgical masks, simple face masks and N95 masks, also well know as FFP2 masks, KN95 or P2 in other parts of the world. We will focus on the difference between surgical masks and FFP2 face respirators.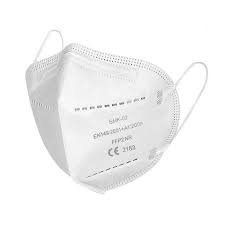 Surgical masks
It refers to a kind of mask made of thin disposable tissue and fleece. It was mainly used in hospitals before the explosion of the Corona pandemic. It can protect both the patients and medical care personnel from bacteria and pathogens. For example, if the person wearing the mask coughs or sneezes, most of the droplets from the mouth and throat become entangled in the mask.
Only when the masks are changed regularly does it work since the used surgical masks may carry germs and pathogens. Therefore, doctors must change their masks at least every two hours in surgery.
Since the onset of Covid-19, surgical masks are insufficient to stop the spreading of the virus while the higher-quality masks with better filtration have become indispensable items everywhere in the medical profession.
FFP half-masks offer better protection
FFP half masks refer to a kind of disposable mask made of strong pressed cellulose with a filter element and an exhalation valve. They look thicker than surgical masks. They are widely used in dusty environments or with aerosols to protect people from dust and germs and virus transmitted by aerosols.
FFP1 Face Respirator
It is designed for filtering the coarser dust. For example, carpenters can wear FFP1 face respirators to prevent bits of wood; Builders may wear them to catch the coarser dust that vacuum cleaners are unable to; Bricklayers can put them on before mixing cement with trowels, kicking up some dust. While they are designed for filtering the coarser dust they still perform better than surgical masks.
FFP2 Face Respirator
FFP2 masks, also well known as N95, KN95 and P2 masks, are becoming more and more prevalent for elder-care and nursing homes. They provide a certain level of protection against viruses for the wearer, but should not be used when in contact with highly infectious patients.
Given the short-lived scarcity of hygiene materials throughout the first coronavirus wave in 2020, Germany's Robert Koch Institute revealed as medical staff might wear FFP2 masks rather than the typical FFP3 masks in infectious situations if FFP3s weren't readily available. Now there is no longer a lack of high-quality masks for such crucial employees.
FFP3 Face Respirator
Only FFP3 masks (about equal to global requirements such as N99, EN149 and also P3) properly protect the user from droplet aerosols, healthy protein particles, viruses, microorganisms, fungi as well as spores, and even from extremely unsafe dirts such as asbestos fibers. Unlike easy medical masks, such top-notch filter masks can protect the user-- consisting of from an extremely contagious virus such as measles or tuberculosis.
The difference between surgical masks and FFP2 face respirators
FFP2 face respirators are more professional than surgical masks and even FFP1 face respirators perform better than surgical masks.
By the way, we are a professional FFP2 face respirators manufacturer and if you have any needs please feel free to contact us.