Why Wearing a Mask Is Important?
December 07,2021
Masks were once in shortage in the past year due to COVID-19. Why the masks lack? They can prevent respiratory infectious diseases, reduce risk of infection of COVID-19. What's more, masks are able to prevent the patient from spraying droplets, reducing the volume and speed of the droplets, and also block viral droplet nuclei from being inhaled by the wearer.
People who have get vaccinated against COVID-19 also need to wear masks, because vaccination is not 100% protective, and it takes time to develop protective antibodies. Up to now, wearing mask is the most effective method to prevent the spread of virus.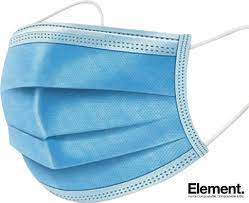 Benefits of wearing masks
Slow down the spread of virus
"The corona-virus is spread through respiratory droplets in the air or on surfaces," Wolfe said. Wearing a face mask helps to stop the virus from entering the air where it can be inhaled by others. "People who are infected may have no symptoms or mild symptoms that they mistake for a cold or allergies," said Wolfe. If they sneeze, cough, clear their throats, and even talk, they can spread the virus to others. Masks trap the infection beads in their fibers. When integrated with physical distancing as well as frequent hand washing, deal with masks aid protect against individuals from unknowingly spreading the virus.
Prevent all kinds of harmful substances in the air from damaging skin
In addition to preventing diseases, wearing masks correctly can also prevent skin damage caused by various harmful substances in the air. Now young people both men and women pay more attention to their appearance, and the quality of the skin is a very important one here. Exhaust from vehicles in the city, which undoubtedly contains a lot of harmful substances, these things even if they do not cause us to suffer from respiratory diseases, sticking to the skin is also harmful to our skin.
Avoid inhaling too much oil smoke when cooking
You can also wear a mask when cooking to avoid inhaling too much oil smoke. Cooking lampblack also contains many carcinogens, wear masks to avoid inhalation of these substances, but also can reduce the probability of lung cancer.
How to properly wear masks?
Wash your hands before and after touching the mask.

Touch only the bands or ties when putting on and taking off your mask.

Make sure the mask fits to cover your nose, mouth and chin. If you adjust the mask to cover those areas, wash your hands before and after.

Make sure you can breathe and talk comfortably through your mask.

Wash reusable masks after each use. If the mask is disposable, discard it when visibly soiled or damaged.
In the end
Everyone of us should develop the good habit of wearing masks during this period. As long as all of us wear masks, the virus will not spread and disappear eventually. Xiamen Safety Health & Environment Industry & Trade Co., Ltd. is a professional manufacturer of all kinds of masks like China High Quality double filter gas mask,folded dust mask, cone mask, particulate filter, reusable mask, ,filter cartridges and so on.Welcome to contact.